About Us
CDF Pro Mécanique is an automotive repair shop located in Ile-Perrot. Established in 2012 by Clayton Fitzpatrick, the shop maintains and repairs all makes and models of cars and trucks, for both personal and industrial use.
''Our goal is to provide honest, transparent, and high caliber automotive service repairs to both commercial and private customers'', explains owner Clayton Fitzpatrick.
When you decide to contact or visit CDF Pro Mécanique for service on your car or truck, Pascal Vincent, the shop's bilingual technical advisor, will be the first to greet you with a welcome and friendly demeanor. Pascal and his team will then assess your needs and help you determine your best plan and available options.
''Every customer is different, and we make sure we take the time to analyze each situation individually and find the right solutions for the customer,''explains Vincent.
Customers will also quickly notice the shop is always kept clean, from the reception area to the workshop. This is another important aspect of our business. ''We want our clients to feel comfortable in our shop from the moment they set foot in it.''.
This all contributes to the the organization's philosophy: we aim at building long lasting relationships with our clients, where trust and mutual respect is developed and nurtured rather than a quick turnover.
To learn more about our business, meet our team or ask about any of our products or services, feel free to contact us.
Contact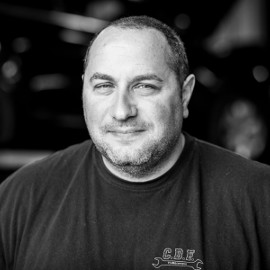 Clayton Fitzpatrick
Owner

Pascal Vincent
Technical adviser

Christian Bourbonais
Mechanic